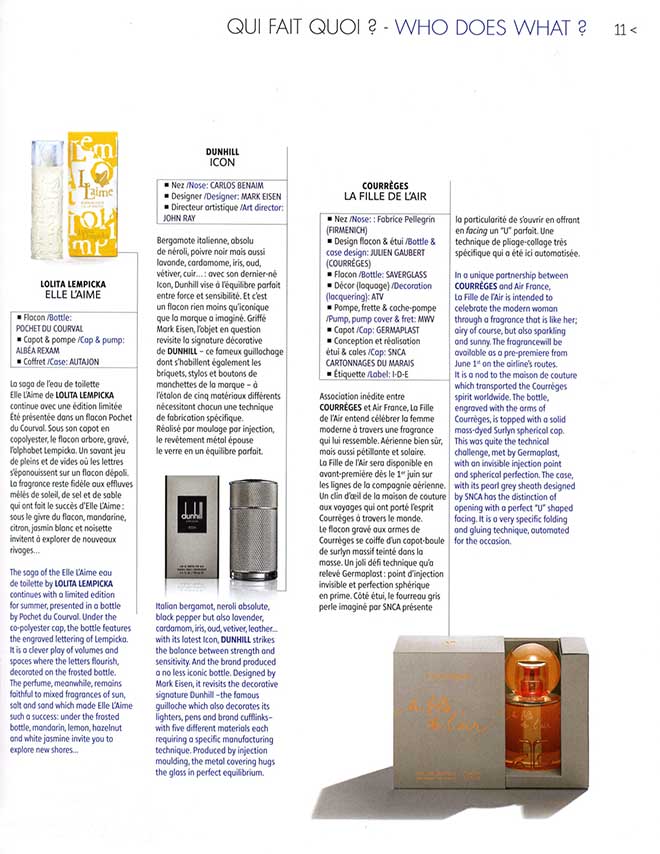 Association inédite entre Courrèges et Air France, la Fille de l'Air entend célébrer la femme moderne à travers une fragrance qui lui ressemble. Aérienne bien sûr, mais aussi pétillante et solaire.
La Fille de l'Air sera disponible en avant-première dès le 1er juin sur les lignes de la compagnie aérienne. Un clin d'œil de la maison de couture aux voyages qui ont porté l'esprit Courrèges à travers le monde. Le flacon gravé aux armes de Courrèges se coiffe d'un capot-boule de surlyn massif teinté dons la masse. Un joli défi technique qu'a relevé Germaplast: point d'injection invisible et perfection sphérique en prime.
Côté étui, le fourreau gris perle imaginé par SNCA présente la particularité de s'ouvrir en offrant en facing un « U » parfait. Une technique de pliage-collage très spécifique qui a été ici automatisée.
Conception et réalisation étui & cales /Cap: SNCA – Cartonnages du Marais – CNC Packaging
Formes de Luxe
WHO DOES WHAT ?
ln a unique partnership between Courrèges and Air France, La Fille de l'Air is intended to
celebrate the modern women through a fragrance that is like her; airy of course, but also sparkling and sunny.
The fragrance will be avoiloble as a pre-premiere from June 1st on the airline's routes. lt is a nod to the maison de couture which transported the Courrèges spirit worldwide. The bottle, engraved with the arms of Courrèges, is topped with a solid moss-dyed Surlyn spherical cap. This was quite the technicol challenge, met by Germaplast, with an invisible injection point and spherical perfection.
The case, with its pearl grey sheath designed by SNCA has the distinction of opening with a perfect « U » shaped facing. lt is a very specific folding and gluing technique, automated for the occasion.
Case design and production: SNCA – Cartonnages du Marais – CNC Packaging